Norway, the British Isles & Edinburgh Military Tattoo
The term 'tattoo' comes from the early 17th century Dutch phrase doe den tap toe ("turn off the tap"), a signal sounded by drummers or trumpeters to instruct innkeepers near military garrisons to stop serving beer and for soldiers to return to their barracks!
Seabourn have a fantastic itinerary that will include 2 full days in Edinburgh to coincide with the Military Tattoo. While here, a visit to the Edinburgh Botanical gardens is highly recommended, they are free to get in to and spectacular!  Also on this itinerary is Scrabster, visit the Castle of Mey here – the Queen Mothers beloved castle and gardens, a visit to Newcastle upon Tyne will afford a visit to Alnwick Castle Gardens, these are truly amazing with a Bamboo Labyrinth, Serpent Garden, Rose Gardens and a Poison Garden where you don't stop to smell the flowers!  Nearby is Bamburgh Castle, the setting for Bernard Cornwall's Uhtred of Bebbanburg Viking series. Invergordon has the very poignant Culloden Moor nearby, you have the windswept and dramatic Shetland Islands and wonderful Copenhagen where the people and city are charming, and the food is deliciously Danish.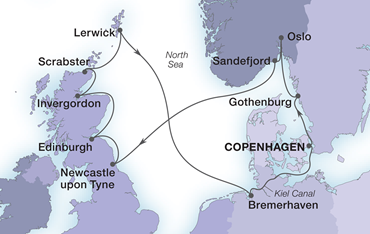 NORWAY, THE BRITISH ISLES & EDINBURGH MILITARY TATTOO
14 nights onboard Seabourn Ovation from Copenhagen return departing 03 August 2019

Veranda Suite from $7,929* pp share twin
Penthouse Suite from  $25,539* pp share twin
Penthouse Spa Suite from $28,259* pp share twin
Owners Suite & above from $35,859* pp share twin

* Fares are NZD subject to change and availability at the time of booking. Contact Travelcom for more details on 0800 69 88 77 or travel@travelcom.co.nz