Holiday on a Boutique Hotel Barge!

All-inclusive Hotel Barge holidays offer a unique opportunity to travel in comfort without the strains of unpacking and repacking – whilst enjoying a balanced blend of daily excursions and relaxing cruising. If you are getting a group together or celebrating a special occasion – consider chartering the whole boat. Capacity ranges from 6 to 20 passengers.
Your voyage includes accommodation, all meals aboard and ashore, champagne welcome, open bar, excursions and admittance fees, and use of bikes. Your floating hotel is furnished with modern comforts. The finest cuisine is prepared by your on-board Master Chef, complemented by a fine array of wines. And of course the experienced and knowledgeable crew is there to provide a superb holiday experience.
Daily excursions are a highlight of all Hotel Barge cruises. They are either a short walk away from the barge, or if further by minibus. There is also time to stroll or bike along the tow-paths, assist a lock keeper, or wander into riverside villages and towns. While on board you may relax on deck (some have Spa pools) or in the saloon – reading a book, listening to music, or just admiring the landscape slowly rolling past.
We have access to Hotel Barges in CANAL DU MIDI,  BURGUNDY, GASCONY / BORDEAUX, LOIRE VALLEY, ALSACE & LORRAINE, CHAMPAGNE, PROVENCE, HOLLAND, ITALY, ENGLAND, SCOTLAND & IRELAND. Contact us for a quote!
September offer: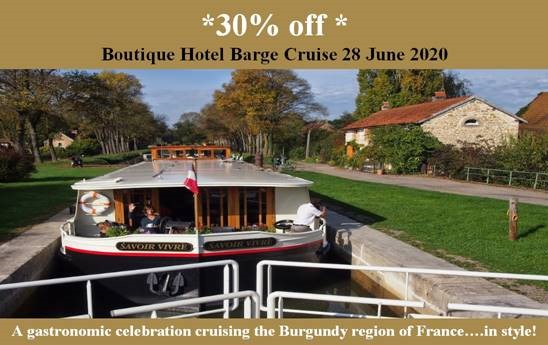 5-Star Boutique Hotel Barge in France
Experience a new way of barging with the stylish eight passenger Savoir Vivre. Nightly meals ashore at local restaurants are included in the price, which gives you an up close and personal experience of the local French Culture and exquisite cuisine. Nice size cabins with en-suite facilities for eight guests, this barge is smartly decorated and offers all the amenities one expects when barging but has a new twist with meals ashore.
You will cruise along one of France's most beautiful canals, the Canal du Bourgogne. When not enjoying the spectacular and charming scenery, you will explore hidden gems of French life, history and culture via air conditioned van and the legendary guidance of Laura, your private expert guide.
Was from $6,349 pp Now from $4,439 pp
 All-inclusive meals & drinks, excursions, 24/7 Bar and more.
'Dine around' at local restaurants for different dinner experiences
6 nights
Private chauffeured transfers from and to a central Dijon location.
8 passengers
Bikes to go exploring
Personal Friendly Service, Captain, House keeping and Tour Guide
This is truly a bucket-list experience. Small group touring at its best and totally relaxing! See itinerary
Offer closes 30 September 2019. Full capacity of 8 passengers must be booked by this date to secure discount. Contact us for full details.