Cruise the Royal River Thames to 'Downton Abbey'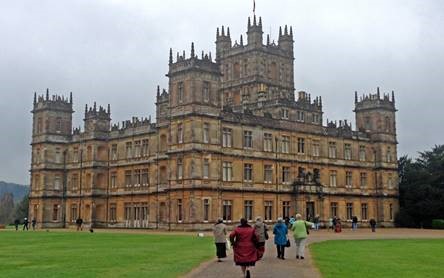 Five departures in May 2020 aboard the luxury Hotel Barge 'Magna Carta' will visit Highclere Castle, setting for the renowned period drama series, "Downton Abbey". The hugely impressive Victorian castle sits on a 1,000 acre estate, and is the iconic home of the fictional Crawley family on the show. The "real" Downton Abbey has been owned by the Carnarvon family since 1679, where Lord and Lady Carnarvon still live today.
Cruising along the famous River Thames in England, passengers aboard hotel barge 'Magna Carta' will also enjoy "royal" views and excursions to majestic castles (incl Windsor Castle), palaces and cathedrals. 'Magna Carta's' itinerary also features a visit to 'Cliveden House', once owned by the Astor family and now one of the world's finest luxury Hotels, the visit also includes it's glorious gardens. The cruise concludes with a tour of Christ Church, one of the most prestigious colleges at the University of Oxford and one of the settings for Lewis Carroll's "Alice's Adventures in Wonderland".
LIMITED CABINS LEFT!  PRICES START FROM NZ$8,899 pp twin share (6 nights all inclusive)

Your Hotel Barge: Magna Carta
The elegant and spacious air-conditioned 8 passenger Magna Carta is the perfect hotel barge for the royal river. You will be offered an unrivalled view of England from the deck of this luxurious vessel.
Magna Carta is one of the finest, most luxurious vessels cruising the British Isles today. The ambience created by combining a traditional 1936-built barge hull with fine mahogany, teak and oak woods is outstanding. Modern amenities include under floor heating, spa pool and contemporary en suite facilities for the four spacious 200 sq ft suites.
The upper deck saloon and dining area feature picture windows and stylish furnishings. Your Master Chef produces a range of mouth-watering dishes whilst you enjoy the riverside surroundings from your floating country hotel.
Her experienced Captain knows the Thames well and will pilot the barge and be your tour guide. Your Master Chef will produce a range of mouth watering dishes whilst you enjoy the sights of Royal Berkshire, historic Buckinghamshire and beautiful Oxfordshire from your floating country inn. Two house keepers complete the crew of four.