Viking's Grand European Tour 2019 Out Now!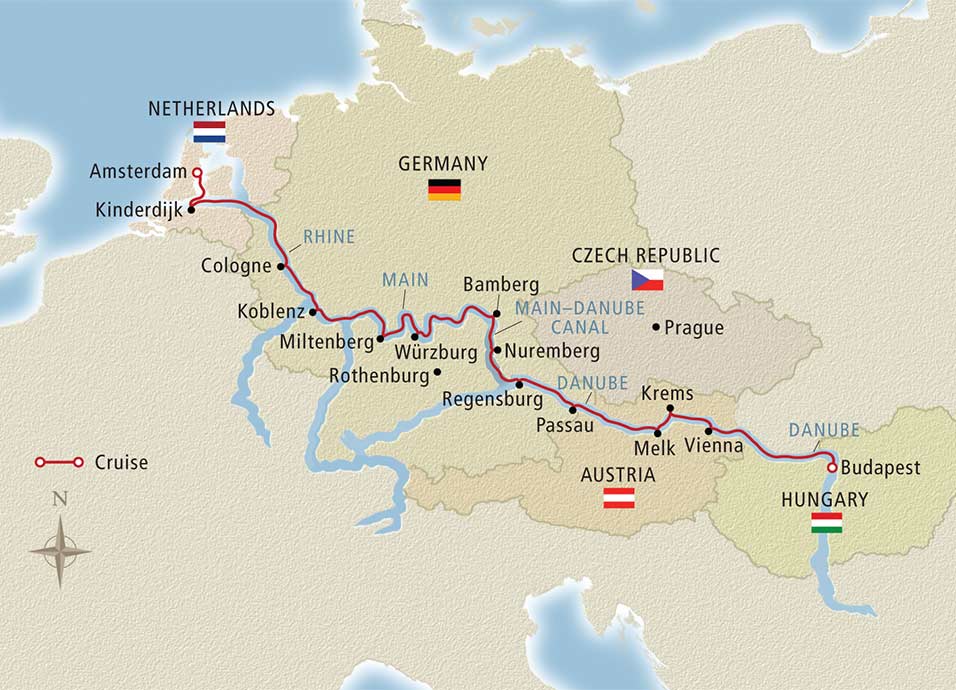 Due to popular demand Viking's best selling river cruise Grand European Tour, is now open for 2019 and it's booking out fast.
This 15-day Grand European Tour river cruise is available at a special price starting from just $7325 per person with inclusive return airfares to Europe.
This enriching itinerary will take you through the heart of Europe, where you will embark on 12 guided tours to four charming countries including Hungary, Austria, Germany and The Netherlands, travelling on the Danube, Main and Rhine Rivers.
Don't miss out on this offer – book now!
Call us or come and see us in store!
Day by Day
1. Amsterdam, The Netherlands: Capital of The Netherlands, Amsterdam is renowned for its museums, colorful gardens, abundance of bicycles and endless lattice of canals.
2. Kinderdijk, The Netherlands: The South Holland village community of Kinderdijk includes a set of 19 windmills and other ingenious technologies built in the 18th century to control flooding.
3. Cologne, Germany: An intriguing mix of old and new, Cologne reveals its Roman heritage in the city layout and ancient ruins that lie scattered through the town.
4. Koblenz, Germany: On a breathtaking stretch of the Rhine that leads from medieval Koblenz to Braubach to Rüdesheim, the 11th-century Marksburg Castle towers over the river.
5. Miltenberg, Germany: Lively and romantic, the medieval town of Miltenberg on the Main River lies amid one of Germany's fine wine–producing regions.
6. Würzburg, Germany: Würzburg is home to the Bishops' Residenz, one of Germany's largest and most ornate palaces and a UNESCO World Heritage Site.
7. Bamberg, Germany: Founded in 902, Bamberg remains a medieval-looking city known for its symphony orchestra and specialty, "smoke" beer.
8. Nuremberg, Germany: One of Germany's most renowned and intriguing cities, Nuremberg is surrounded by 13th-century walls that have many fully intact gates and watchtowers.
9. Regensburg, Germany: Having escaped major damage during World War II, the picturesque town of Regensburg is one of Europe's best preserved medieval cities and the oldest city along the Danube.
10. Passau, Germany: Set at the confluence of the Inn, Ilz and Danube Rivers, enchanting Passau is home to elegant colored buildings and graceful arcades.
11. Melk, Austria: The charming city of Melk is set amidst an important wine-growing region.
12. Vienna, Austria: The capital city of Austria, Vienna is filled with green parks, upscale stores, theaters and gracious boulevards.
13. Vienna, Austria: Strauss and Mozart composed many fine pieces in Vienna, Europe's center of classical music.
14. Budapest, Hungary: Budapest is aptly called "Paris of the East" for its beautiful evening illumination and reflected lights in the Danube's waters.
15. Budapest, Hungary: Riverside beauty, a vibrant cultural scene and elegant Art Nouveau architecture converge in Budapest.