Travelcom Golf Tour to USA's West Coast
08 – 26 September 2018
Includes Golf at Pebble Beach!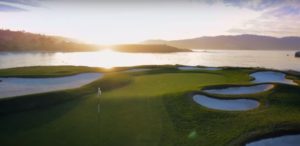 Join Travelcom on our upcoming golfing tour. Our itinerary covers highlights of California and Nevada. Starting in Los Angeles, traditionally known for Hollywood but recently extending its cultural backbone with award winning restaurants, beautiful beaches and challenging golf courses. We have two golfing options near Anaheim Trump National or Monarch Beach Golf links. Fantastic courses with stunning vistas of the Californian coastline. After Tinsel town we will move to Palm Springs, famed for mid-century style architecture, concerts, hip eateries and most importantly – Golf. You cannot miss the TPC Stadium course, considered one of the toughest challenges in Golf.
After Palm Springs it's Viva Las Vegas, here we will be golfing some of The US's best courses. The Wolf Course at Paiute, we think is top 3 on the West Coast and have added a couple of fun rounds, Bears Best, Jack's favourite golf holes from around the world and Bali Hai, where planes fly right over head and you get a full view of the Vegas Strip.
Then we are playing at the home of US Golf, Pebble Beach. Here we will stay 3 nights at the Garden View Inn at Spanish Bay. We will play two rounds of golf, one at the world's best course, The Links at Pebble Beach, and one at Spanish Bay.
Click here for the full day to day itinerary : USA Golf itinerary