Rail Holidays in Australia April 2019 – March 2020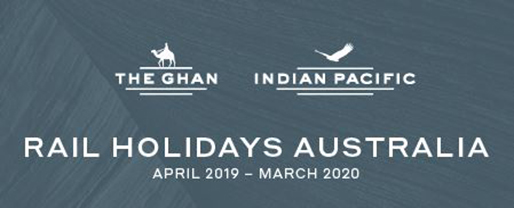 A LEGENDARY PAST, A NEW ERA OF EXPERIENCE TRAVERSING FAR AND WIDE ACROSS THE COUNTRY, THE GHAN AND INDIAN PACIFIC ARE ICONS OF AUSTRALIA.
Two of the world's great rail experiences, they evoke a frontier spirit, a legendary connection to the land, and travelling on them is a moving and unforgettable life experience. There is no place in the world like Australia, and the romance of rail offers a unique and memorable way to explore its length and breadth. Showcasing the diverse landscapes, sights, flavours, wildlife, climates and human endeavour that define Australia in the imagination, these
transcontinental journeys offer exceptional scale, range and significance. Venture further with curated, powerfully enriching journey extensions that capture the nation in all of its guises: from Outback, to Food & Wine, Nature,
Indigenous, Beaches, Adventure, Rail & Sail, and City Stops. As The Ghan turns 90 and the Indian Pacific
approaches half a century of epic transcontinental crossings, their exciting evolution as centrepieces of a new era of experiential travel is only just beginning.
BOOK IN ADVANCE AND SAVE WITH ADVANCE PURCHASE FARES
Book at least 6 months in advance and benefit from our most competitive price. Your trip of a lifetime won't come at better value than this – but you'll need to be quick. With limited availability, our Advance Purchase fares sell out fast.*
Gold Service Advance Purchase fares:
Indian Pacific Coast to Coast 4 days from NZ$2,225pp share twin
Indian Pacific Mountain Explorer 2 days from NZ$775pp share twin
Indian Pacific Nullarbor Crossing 3 days from NZ$1,589pp share twin
The Ghan Expedition 4 days from NZ$3,315pp share twin
The Ghan Outback Spirit 3 days from NZ$2,359pp share twin
The Ghan Red Centre Explorer 2 days from NZ$2,325pp share twin
The Ghan Top End Discovery 2 days from NZ$1,325pp share twin
Please enquire for a quote for your required dates.