LAST CALL for Vasco da Gama's Maiden Voyage
BUY ONE GET ONE FREE OFFER !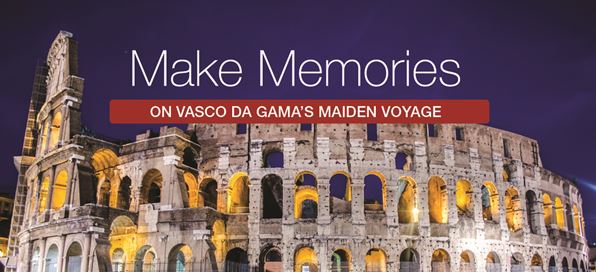 Imagine the memories you can make in 15 different countries and 20 exciting destinations…
Vasco da Gama's spectacular 44-night Maiden Voyage departs Singapore for London on 23 April 2019 and visits some truly breathtaking destinations; including Egypt, Greece, Italy & Morocco. Plus, you'll also get the chance to transit the iconic Suez Canal on the way to Jerusalem.
But be quick if you want to join us on this historic and momentous voyage. It's BUY ONE GET ONE FREE, so spaces are limited.
At last you can tick all these off your wish list…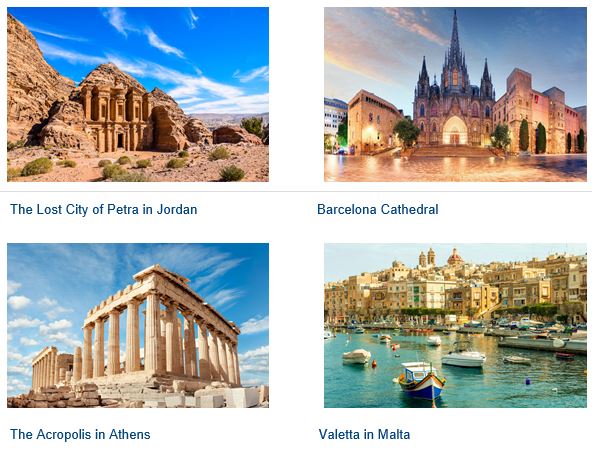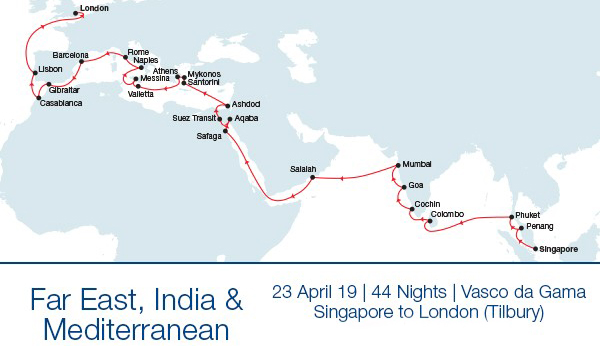 44-night cruise fares from $15,299.00* for Passenger One.
Passenger Two sharing the stateroom sails FREE!
(*based on a Standard Twin Port Hole Ocean View, limited availability)
Contact us for airfare costs or adding a pre- or post-cruise stay in Singapore or London
DATE
PORT
ARRIVE
DEPART
23/04/19
Singapore (Singapore)
–
–
24/04/19
Singapore (Singapore)
–
2400
25/04/19
Cruising Malacca Straits
–
–
26/04/19
Penang (Malaysia)
0700
1700
27/04/19
Phuket (Thailand)
0700
1700
28/04/19
At Sea
–
–
29/04/19
At Sea
–
–
30/04/19
At Sea
–
–
01/05/19
Colombo (Sri Lanka)
0800
2300
02/05/19
At Sea
–
–
03/05/19
Cochin for optional overland tour to Taj Mahal (India)
0600
2300
04/05/19
At Sea
–
–
05/05/19
Mormugao (Goa) (India)
0700
1500
06/05/19
Mumbai (India)
0800
2000
07/05/19
At Sea
–
–
08/05/19
At Sea
–
–
09/05/19
At Sea
–
–
10/05/19
Salalah (Oman)
0800
1700
11/05/19
At Sea
–
–
12/05/19
At Sea
–
–
13/05/19
At Sea
–
–
14/05/19
At Sea
–
–
15/05/19
Safaga for Luxor (Egypt)
0400
2000
16/05/19
Aqaba for Petra (Jordan)
0900
2100
17/05/19
At Sea
–
–
18/05/19
Transit the Suez Canal
0400
1700
19/05/19
Ashdod for Jerusalem (Israel)
0600
2000
20/05/19
At Sea
–
–
21/05/19
Santorini (Greece)
0700
1300
21/05/19
Mykonos (Greece)
1800
2400
22/05/19
Piraeus for Athens (Greece)
0800
2200
23/05/19
At Sea
–
–
24/05/19
Valletta (Malta)
0800
1800
25/05/19
Messina, Sicily (Italy)
0800
1800
25/05/19
Cruising Strait of Messina
–
–
26/05/19
Naples (Italy)
0800
1900
27/05/19
Civitavecchia (Italy)
0700
2200
28/05/19
At Sea
–
–
29/05/19
Barcelona (Spain)
0800
2300
30/05/19
At Sea
–
–
31/05/19
Gibraltar (BCC)
0900
1800
01/06/19
Casablanca (Morocco)
0700
2400
02/06/19
At Sea
–
–
03/06/19
Lisbon (Portugal)
0800
1400
04/06/19
At Sea
–
–
05/06/19
At Sea
–
–
06/06/19
London Tilbury (United Kingdom)
0900
–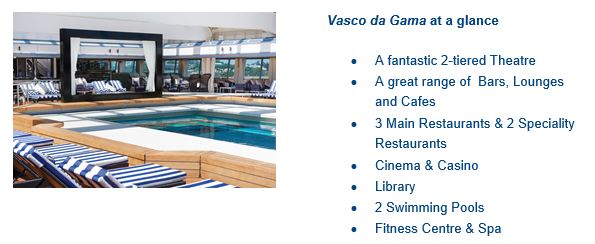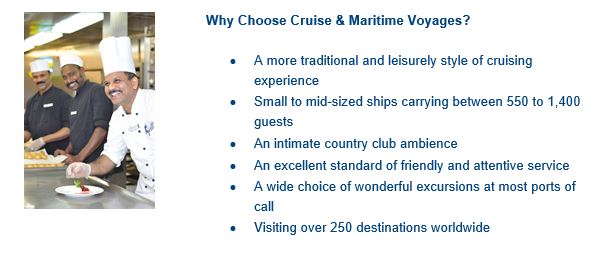 Contact us for full details and availability