Around the World Aboard a Privately Chartered Qantas 747!
We are pleased to bring you this  incredible travel experience.
A 20 Night Around the World Air Cruise ex Sydney Return on a Privately Chartered Qantas Boeing 747
Departs 22 April 2018, returns 12 May 2018.
Sydney ~ Hanoi ~ India ~ The Serengeti ~ Marrakech ~ New York ~ Havana ~ Tahiti ~ Sydney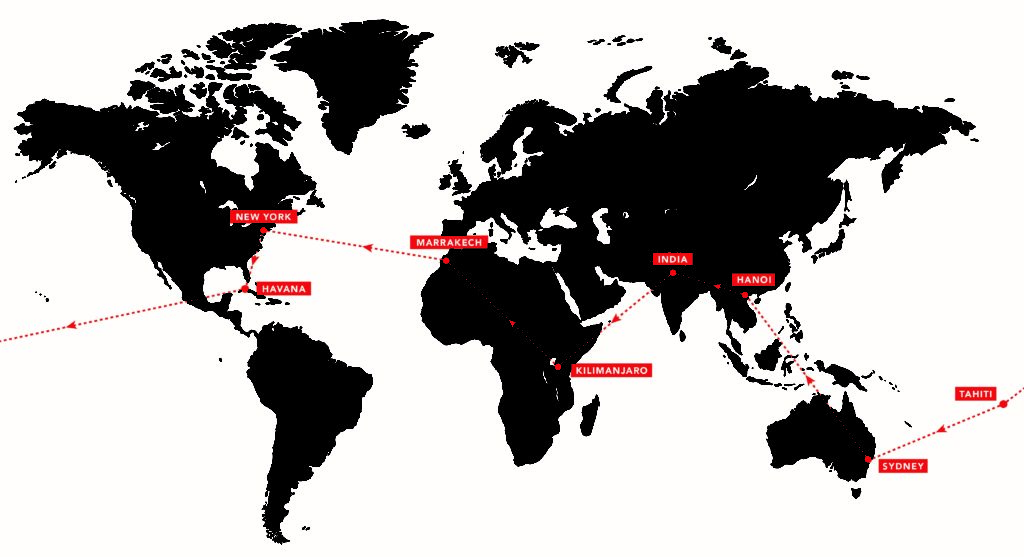 For three weeks, your privately chartered Qantas 747 has all you need and more! The friendly, professional crew will be there to welcome you with a glass of French Champagne and superior cabin service. No matter what class you are travelling in, your comfort is the highest priority and therefore not all seats will be utilised so you are able to stretch out and enjoy the journey. All flights on this 20 night air cruise are direct, non-stop and in daylight hours – another touch which sets this journey apart from any other private jet.
Included in the Journey Cost:
 Travel aboard a Privately Chartered Qantas Boeing 747
Accommodation in luxury hotels and game lodges
All sightseeing as specified in the brochure
All meals plus beer, wine and soft drink with dinners
Bottled water in hotels and whilst sightseeing
The services of a tour leader
Tipping
Taxes
Travel Insurance (subject to meeting the requirements of the insurer)
SUPERIOR CLASS from NZ$21,649
Featuring: Qantas Economy Class seating. Enhanced meal and bar service. Inclusions as detailed in the Inclusions section. Single Supplement $3,549
SUPERIOR PLUS from NZ$32,775
Featuring: Qantas Economy Class seating. Window or aisle seating. Empty seat between each guest. Enhanced meal and bar service. Inclusions as detailed in the Inclusions section. Single Supplement $3,549
PREMIER CLASS from NZ$42,775
Featuring: Qantas Premium Economy Class seating. Enhanced meal and bar service. Inclusions as detailed in the Inclusions section. Single Supplement $3,549
BUSINESS CLASS from NZ$58,875
Featuring: Qantas Business Class seating on the main deck. Inclusions as detailed in the Inclusions section. Single Supplement $7,325
BUSINESS PLUS from NZ$64,439
Featuring: Qantas Business Class seating on the upper deck. Inclusions as detailed in the Inclusions section. Single Supplement $7,325
FIRST CLASS from NZ$86,659
Featuring: Qantas First Class seating. Inclusions as detailed in the Inclusions section. Single Supplement $10,939
NOT INCLUDED IN THE JOURNEY COST:
Passport and Visa charges. Vaccinations and medications suggested by the tour doctor. Items of a personal nature including phone calls, drinks and meals away from the group. Mini bar and other hotel costs not specified in the brochure. Laundry costs unless specified. Pre existing condition or age related increased premiums applied by the travel insurer.
If you are a member of  the Qantas Frequent Flyer programme your journey can contribute to your Qantas Frequent Flyer balance.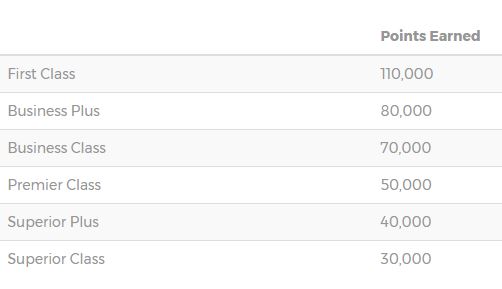 Full itinerary:
DAY 1 – SUNDAY 22 APRIL – SYDNEY TO HANOI

The former capital of French Indochina and North Vietnam delights in a paradox of quietude and chaos. Its history is etched in the halcyon days of pagodas, turbulent memories and colonial architecture. The city's heartbeat races in a frenetic buzz of motorcyles and gossip overheard in pavement noodle stalls. Simple pleasures are discovered on the banks of Hoan Kiem, the Lake of the Returned Sword, encircled by the wheels of centuries of cyclos. Visitors pay homage to la vie en rose munching banh mi baguettes and caramel custard as Parisienne as the architects who built Long Mien bridge spanning the Red River – and the Eiffel tower. The essence of cross culture dances in the breeze like the ladies' parasols in the maze of the Old Quarter. Welcome to Hanoi, our first port of call.

DAY 2 – MONDAY 23 APRIL – HANOI

Welcome the new day the Hanoi way, join us for a spot of dawn Tai Chi before breakfast.

Unravel the delights of Hanoi on a city tour guiding you to fabled icons to set the pace for the day. Serenaded by windchimes and floating through clouds of incense, sink into a deeper relaxation at One Pillar Pagoda and the Temple of Literature. Later, bring the legend to life at Ho Chi Minh's house.

Then the choice is yours with our A La Carte options to build the day your way.

Experience the city in the style of centuries past, exploring the authentic way on a pedal rickshaw cyclo tour through the labyrinthine 36 streets. Alternatively, an art or shopping tour brings Hanoi to life in a whirlwind of colour and culture.

Our welcome event recreates the market stalls of a Vietnamese street scene, set amongst the backdrop of Hanoi's Imperial Citadel.

DAY 3 – TUESDAY 24 APRIL – HANOI

For the early risers Tai Chi is on the menu again.

A la carte options abound today as you choose to enjoy Vietnam your way

Journey on a full day discovery to the natural wonder of Halong Bay as you circumnavigate the wonderous limestone plinths full sail aboard an antique junk.

It's chopsticks at the ready for a culinary journey into pho, banh mi and the delicate art of Vietnamese cooking.

Escape the city peddling your own bicycle to the verdant rice paddies to see a side to Vietnam's rural north visitors too often miss.

Hanoi's gourmandise culture has blossomed into a prolific scene to tantalise even the fussiest of foodies. We have an array of fine dining in store for you to sample, from the delicate degustation of French-Vietnamese cuisine in colonial villas, to steaming bowls of pho and that famous iced coffee, you will find it all here in Hanoi.

DAY 4 – WEDNESDAY 25 APRIL – HANOI – INDIA

You may have noticed that we are in Hanoi on ANZAC Day. We understand the importance of paying our respects to those who have given their lives in honour of our country and appreciate that this day should be respected wherever in the world you are. Rest assured there will be provisions made for a special dawn service prior to our departure for India.

Touching down into Delhi we follow the dusty path to Agra, watching a cinema of city scenes unfold out the window. Scooters laden with impossible loads, temples strewn with flowers of every hue and busy towns fly by en route to experience one of the Seven Wonders of the World. The Taj Mahal awaits on the new horizon, but first up settle into your hotel for a spot of rejuventation and our first taste of Indian hospitality, brought to us with a choice of relaxed dining options.

DAY 5 – THURSDAY 26 APRIL – AGRA

For early risers in search of the authentic Taj Mahal experience, be among the first of the new day to cast your eyes upon its grace with a dawn visit before the sun rises.

You are invited to join us for a Champagne breakfast at a special site overlooking the Taj Mahal. Return to your hotel or continue to the Taj after breakfast, perhaps satisfying the urge to recreate the photograph of Princess Diana on the bench with the marble minarets gleaming in the background.

Shopping for carpets, fabrics and homewares or continuing discovery of Agra's historical gems? The choice is yours with visits to fine merchants or a step between the pages of history, walking the path of the Mughal warriors in the terracotta mirage of the Red Fort and the ancient abandoned city of Fathepur Sikri.

DAY 6 – FRIDAY 27 APRIL – AGRA – DELHI

Back to New Delhi as the sun casts its gaze over another day, our spirits have surrendered to the spell of India. A new discovery awaits in Delhi where we look forward to discovering the holy trinity of Old Delhi, British Delhi and the new city that was constructed following independence. Our drive takes us to admire the stately buildings of the Diplomatic Enclave including India Gate, Parliament House and the President's House, all from the comfort of our air conditioned transport, before the piece de resistance of this monumental city comes alive in the peaceful oasis of Raj Ghat, the cremation ground of Mahatma Gandhi, a paean to peace in the bustling throng.

DAY 7 – SATURDAY 28 APRIL – DELHI – THE SERENGETI

Grab your safari hat and prepare to amp up the adventure; a new continent is on our radar this morning and the call of the wild is strong. Our private jet takes us to Kilimanjaro International Airport, where the excitement is heightened as we board a fleet of smaller aircraft for the short hop into the Serengeti.

Our selection of lodges have been chosen in the southern Serengeti due to their optimum position to enjoy the best of the migration at this time of year.

The sprawling Serengeti plains set the stage for the trials of life over 14,763 square kilometres of grasslands. This is one of the best places on earth for coming nose to tail with prides of sunbaking lions, cheetahs napping in the shade, herds of elephants making their steady plod to the watering hole, wildebeest in their multitudes and perhaps even a glimpse of the elusive rare black rhino.

DAY 8 – SUNDAY 29 APRIL – THE SERENGETI

Few natural spectacles on earth can surpass the intensity and drama of The Great Migration of the Serengeti. Jumping into our 4×4 safari jeeps, we will be running with the pack on fully guided game drives in search of the big five, something that any traveller worth their stripes has simply got to accomplish. Prime your binoculars to be front and centre for the thrill of the chase and maybe even chance encounters with newborn cubs practising their hunting skills in the long grass, or a cheetah on the prowl ready to hunt. Cast your eyes skywards to a flurry of feathers with over 500 species of birds native to these plains.

Anything could happen in these lands where the lion is king. We look forward to sharing stories and photographs over sundowner cocktails as the day grows long, looking for one last elephant silhouetted against the horizon, before the Serengeti stars come out and we perhaps enjoy a dinner alfresco.

DAY 9 – MONDAY 30 APRIL – THE SERENGETI – MARRAKECH

It may only be the fourth largest city in Morocco, but intoxicated by the fragrance of jasmine and Moroccan rose petals, Marrakech is a magnet to the senses. The name conjures exotic reveries of spices and souks brought to you on a magic carpet woven with cinnamon scented surprises. Brought to life by the call to prayer, a myriad of otherworldly experiences are written in the sands of the desert haze, embodied in the heady buzz of Djemaa el Fna square. Travellers have flocked to this bohemian mecca for centuries. The French influence is still apparent – there's a reason why Yves Saint Laurent brought an estate here and lovingly restored the Marjorelle Gardens, alive with a living carpet of blossoms. You will see it in the swirl of the fabric and the majolica tiles of the buildings – this place has a rare texture, depth and complexity just waiting for your discovery.

DAY 10 – TUESDAY 01 MAY – MARRAKECH

Your North African fairytale comes to life in the bustling throng of the 'red city' of Marrakech. A walking tour takes us in search of its dusty desert icons including the Bahia Palace, Koutoubia Mosque and Tombs of the Seven Saints.

If you're looking forward to experiencing a genuine Moroccan shopping experience, you're sure to find just what you're looking for in an afternoon browsing the souqs. A veritable treasure trove of trinkets, textiles and silverware are among some of the gems ripe for the picking.

A taste of Marrakech at its most colourful is in store as evening falls over Djemaa el Fna square. This bewitching theatre of humanity comes to life at dusk when the city's most famous public square is a whirlwind of activity. Under the spell of incense and the heady smoke of the charcoal BBQs, expect jawdropping performances of Halqa street theatre, henna tattooists, Berber musicians and an Aladdin's cave of snake charmers, soothsayers and jewel merchants. We stay awhile to watch the magic come alive.

DAY 11 – WEDNESDAY 02 MAY – MARRAKECH

Seeking to enrich your experience of Marrakech? Our A La Carte options will take your cultural immersion even deeper.

Our Moroccan Kitchen Masterclass will give you all the knowledge you need to recreate the flavours of North Africa back home.

Take a day trip out of the city to explore the far flung reaches of the Atlas mountains.

For those who find their sanctuary among petals and all that blooms, step back in time aboard a fairytale horsedrawn carriage on our Gardens of Marrakech tour, including sipping mint tea under the bowers of the Secret Gardens of Marrakech.

Our 'Marrakech Indoors' design tour is enough to inspire any budding enthusiast, guided by an expert in the field who is ready to answer all your questions.

To see Marrakesh off with the applause it deserves, our final night takes us to a special site in a palm grove where a Moroccan spectacular awaits – Bedouin style.

DAY 12 – THURSDAY 03 MAY – MARRAKECH – NEW YORK

Bold, brassy and absolutely unmistakable, the Big Apple is waiting for you to take a bite. Sinatra's muse is alive with stories and song at any time of day or night. There's a frenetic energy, a creative sparkle from the lullaby of old Broadway to the bright lights of Manhattan. Here everything is larger than life, from the colourful characters you meet on the sidewalk to the buildings at which you will stare ever skyward to admire. Find your happy place over a jazz smoked martini or a hot dog slathered in mustard and ketchup straight from the cart. We look forward to staying awhile in the concrete jungle where dreams are made.

This phenomenal city is vast and wide, saturated in history, verve and all-American optimism. We come together to toast the bright lights of the big city in the exclusive Estrella Room of Le Meridien Parker, drinking in our first sunset over Central Park.

DAY 13 – FRIDAY 04 MAY – NEW YORK

Whether you are a 'First-timer' or ready to explore like a 'Local', we have two tailor made tours to give you the ultimate New York experience. First-Timers will start in Times Square, leading on to the Rockefeller Center and Fifth Avenue, past the affluent family mansions of the Vanderbilts and posing for photographs by the Cartier Building, Versace Building and Bergdorf's. The Locals tour will take you to the admire the cast iron empire of Soho, stand shoulder to shoulder pad with the go-getters of Wall St and the New York Stock Exchange and stay awhile at Arthur's Friends Tavern Jazz Club in Greenwich Village.

Your exploration will be rewarded with a gourmet picnic lunch under the maple trees of Central Park, resplendent with the blooms of late spring. Or perhaps you will satisfy your cravings for lunch like a true New Yorker at Katz delicatessen, made famous in the 1990s blockbuster movie 'When Harry met Sally'. Pastrami on rye anyone? I'll have what she's having…

We look forward to bringing back the old razzle dazzle on a showstopper of a big night on the town – and all that jazz – on Broadway no less. While we're keeping the choice of shows you can choose from a secret at this stage, we can reveal that we will be reserving seats at a selection of shows and a pre-theatre dinner in the thick of it. For the icing on the cake, we are also eager to take you to shake hands with the actors who brought you your show and hear the glamourous stories of a life on and off the stage.

DAY 14 – SATURDAY 05 MAY – NEW YORK

We've plenty of treats in store to broaden your exploration straight from our A La Carte menu – dive in and take your pick!

Behind the beating heart of the city that never sleeps lies a sombering moment in its past that the world will never forget. If you would like to pay your respects to those who lost their lives in the 9/11 tragedy, local guides who have a direct and personal connection with the events that unfolded are ready to escort you.

Take an exclusive early morning VIP tour of the Metropolitan Museum of Art, "The Met" or the Museum of Modern Art, "MOMA", before they open their doors to the public.

Take in the cityscape from 'The Top of the Rock' and survey the glorious melee of city unfolding below.

DAY 15 – SUNDAY 06 MAY – NEW YORK – HAVANA

In Old Havana where the next chapter of our story begins, life is changing. But we're taking you there just in time to immerse you in the old world before the country's nearest neighbours change the spirit of independence forever. A culture of defiance, resilience and blissful revolution come together in a rum soused history, tanned by cigar smoke and the everglow of the Caribbean sun. Salsa music cascades from pastel washed balconies, as bright petals of bougainvillea flowers dance in rhythm on the tropical breeze. Castro may be a ghost, but his legacy lives on in the reflection of polished classic Buicks, Plymouths and Chevvies that cruise the boulevards, remnants crystallised in time. Modern day Havana is still a land that time forgot – but the hands of the pocket watch are gradually beginning to revolve. Soon this romantic land will vanish into a distant memory. At least we have time to make ours.

DAY 16 – MONDAY 07 MAY – HAVANA

Treading in the footsteps of Ernest Hemingway and Graeme Greene, we write our own pages of Cuban history traversing the romantic dilapidation of streets and piazzas on a walking tour. Fall in love with Old Havana through its World Heritage colonial architecture and cobblestoned streets, past the Plaza de Armas and Plaza de San Francisco de Asis breathing in the beauty as your passionate affair unfolds. What will you find in the markets abundant with handmade trinkets? Compare shopping notes and photographs over lunch in a charming Old Havana restaurant.

This afternoon choose to stroll the streets of Old Havana; learn about Cuban rum and its relation to the Cuban people, both past and present by discovering how rum is processed, from harvest to consumption; or learn about the origins of tobacco, how it is grown, produced and exported in a working cigar factory.

We're looking forward to a vibrant dinner at an authentic Cuban family run Paladar, where you can enjoy being head of the table for a family feast with a difference.

DAY 17 – TUESDAY 08 MAY – HAVANA

Venturing beyond old Havana past the Che Guevara billboards and peeling paint by the sea wall and the Miramar district, the roguish charm of every goldtoothed smile will steal your heart. Celebrating faded glamour, our journey continues through this living movie set to El Morro Fortress or Fortoleza de San Carlos la Cabana. After lunch at Club Havana prepare yourself for the ride of your life as you admire Havana on a chauffeur driven vintage car cruise followed by drinks on the lawn of the grand old Hotel Nacional, we bask in the folklore of old 1950s mafiosos, regaled with stories from our guides until the ice in our drinks has melted into a puff of early evening cigar smoke.

Our final evening in Havana is set to be one to remember as we enjoy a gala dinner night alfresco under the stars in one of old Havana's Spanish colonial squares.

DAY 18 – WEDNESDAY 09 MAY – HAVANA – TAHITI

Salvaged treasure of ancient volcanic eruptions, heaven sent on a hibiscus fragranced sea breeze, Tahiti is the embodiment of paradise found. It's a picture postcard of coral atolls, cloud searing peaks and lush, green rainforest lapped by the most dazzling shades of aqua in French Polynesia's ocean palette. Cleansed by the ebb and flow of the tide, with the final layers of reality sloughed off by the Pacific salt spray and sugar sand beaches, your last private jet destination is one of true relaxation, borne of your brightest dreams.

DAY 19 – THURSDAY 10 MAY – TAHITI

Castaway on your own desert island in the definition of paradise where the blissful and much underrated art of doing absolutely nothing is a rite of passage. But there's so much more if you do want to explore. If you snorkel, or have ever wanted to give it a go, the world's most abundant oceans can be your playground as you play finding Nemo, or luxuriate in a swim in blissfully warm waters.

After a hard day's work, it doesn't get more tropical than a BBQ and we look forward to an alfresco dinner, with obligatory cocktails in hand. Feast on a cornucopia of freshly caught seafood as well as the national dish of poisson cru – a fresh, raw and zesty way of preparing the latest catch similar to latin ceviche. As the sun goes down on another day, prepare to surrender your spirit to paradise.

DAY 20 – FRIDAY 11 MAY – DEPART TAHITI

Farewell French Polynesia's most coveted Jewel as you depart for home late this morning.

DAY 21 – SATURDAY 12 MAY – ARRIVE SYDNEY

Cross the international date line and arrive in Sydney this evening.
Contact us now to secure your place on this once-in-a-lifetime experience. Free phone: 0800 69 88 77 or come and see us in store at 165 Maunganui Road, Mt Maunganui.