Around the World in 180 days with Oceania Cruises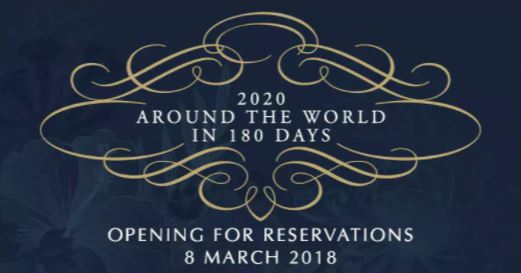 Here is your chance to circumnavigate the globe on a journey of a lifetime! Oceania Cruises new 2020 world itineraries offer great flexibility with convenient departures from Miami or San Francisco.
There have been global circumnavigations before, but nothing quite like Insignia's 180-day journey departing Miami on January 8, 2020. Though visiting an impressive 95 destinations in 38 countries with an indulgent 17 overnight port visits, her ambitious odyssey is much more than the sum of its celebrated ports. Transit the newly-expanded Panama Canal, round Cape Horn and, for the first time on an Oceania Cruises world voyage, explore Alaska and the Aleutian Islands. Circle South America from the cloud-kissed ruins of Machu Picchu to the samba beat of Rio de Janeiro, encounter Africa's magnificent wildlife, and explore the pagodas and tea houses of Japan. And if your sense of exploration is as boundless as our imagination, choose from curated itinerary options embarking in either Miami or San Francisco and ranging up to 200 unforgettable days.
Embark on these exciting 2020 Around The World voyages and feel immediately welcomed by the casually elegant atmosphere, richly appointed spaces and exceptional personalised service from Oceania Cruise's dedicated staff. Reserve your  journey now to enjoy savings of up to 29% and a selection of OLife Choice amenities featuring your choice of up to 78 shore excursions, a Beverage Package or up to a US$7,800 Shipboard Credit, certain to make your journey even more memorable.  Guests aboard the Around The World Voyages will also enjoy the Exclusive Prestige Package* detailed below.
180 night cruise fares start from $59,270pp share twin.  See below for day-today itinerary and other cruise lengths.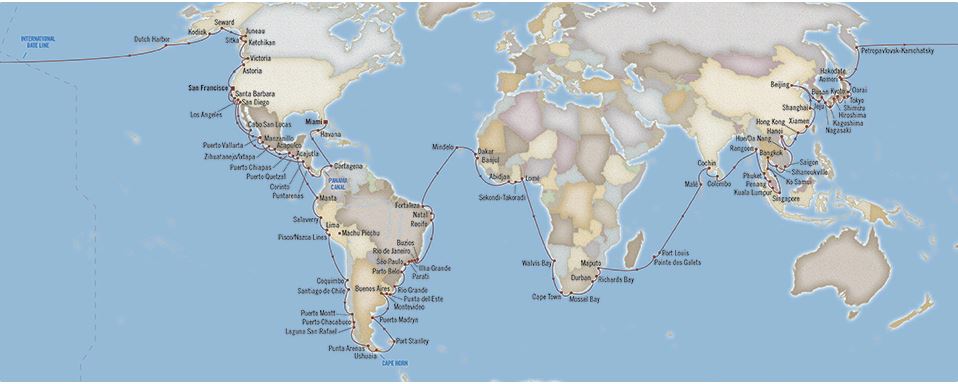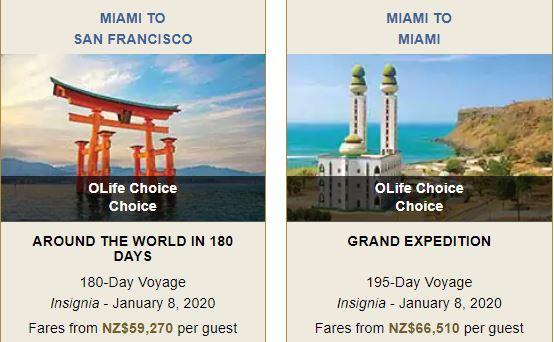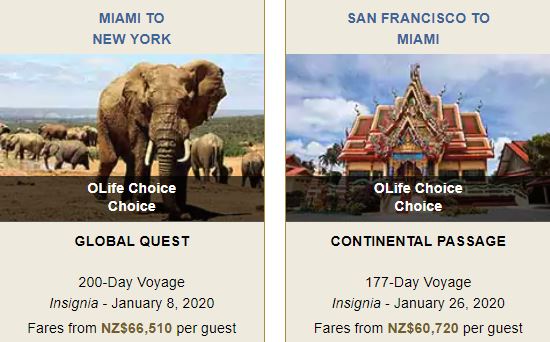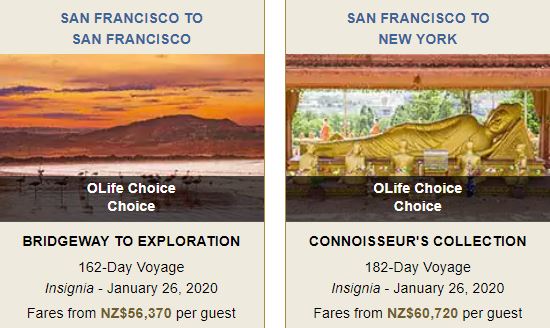 Book Now & Receive up to 29% Bonus Value!
Choose one:
FREE – up to 70 Shore Excursions
FREE – Beverage Package
FREE – up to US$7,800 Shipboard Credit
Amenities are per stateroom
Or book the full Around the World cruise to receive the Exclusive Prestige Package* including:
•FREE GRATUITIES a value of US$8,200
•FREE ONBOARD MEDICAL CARE
•FREE UNLIMITED INTERNET
•FREE LAUNDRY SERVICES
•FREE EXCLUSIVE SHORESIDE EVENTS
•FREE US$1,000 SHIPBOARD CREDIT per stateroom
•FREE 1-NIGHT PRE-CRUISE LUXURY
HOTEL STAY
•FREE TRANSFER BETWEEN HOTEL AND SHIP*
Day-to-day itinerary
2020
Day     –          Port    –      Arrive / Depart
Jan 8 Wed      Miami, Florida, United States Embark 1 PM 5 PM
Jan 9 Thu       Havana, Cuba 8 AM
Jan 10 Fri       Havana, Cuba 5 PM
Jan 11 Sat       Cruising the Caribbean Sea
Jan 12 Sun     Cruising the Caribbean Sea
Jan 13 Mon    Cartagena, Colombia 8 AM 2 PM
Jan 14 Tue     Panama Canal Daylight Transit
Jan 15 Wed    Cruising the Pacific Ocean
Jan 16 Thu     Puntarenas, Costa Rica 7 AM 4 PM
Jan 17 Fri       Corinto, Nicaragua 10 AM 7 PM
Jan 18 Sat      Cruising the Pacific Ocean
Jan 19 Sun     Cruising the Pacific Ocean
Jan 20 Mon   Manzanillo, Mexico 9 AM 7 PM
Jan 21 Tue     Puerto Vallarta, Mexico 7 AM 4 PM
Jan 22 Wed   Cruising the Pacific Ocean
Jan 23 Thu    Cruising the Pacific Ocean
Jan 24 Fri      Los Angeles, California, United States 8 AM 5 PM
Jan 25 Sat      San Francisco, California, United States 6 PM
Jan 26 Sun    San Francisco, California, United States 5 PM
Jan 27 Mon   Santa Barbara, California, United States 12 PM 8 PM
Jan 28 Tue    San Diego, California, United States 8 AM 5 PM
Jan 29 Wed   Cruising the Pacific Ocean
Jan 30 Thu    Cabo San Lucas, Mexico 1 PM 11 PM
Jan 31 Fri      Cruising the Pacific Ocean
Feb 1 Sat        Zihuatanejo (Ixtapa), Mexico 10 AM 7 PM
Feb 2 Sun      Acapulco, Mexico 8 AM 6 PM
Feb 3 Mon     Cruising the Pacific Ocean
Feb 4 Tue      Puerto Chiapas, Mexico 8 AM 6 PM
Feb 5 Wed     Puerto Quetzal, Guatemala 8 AM 9 PM
Feb 6 Thu      Acajutla, El Salvador 7 AM 5 PM
Feb 7 Fri        Cruising the Pacific Ocean
Feb 8 Sat       Cruising the Pacific Ocean
Feb 9 Sun      Manta, Ecuador 8 AM 6 PM
Feb 10 Mon   Cruising the Pacific Ocean
Feb 11 Tue     Salaverry, Peru 5 AM 4 PM
Feb 12 Wed   Lima/Machu Picchu (Callao), Peru 10 AM 8 PM
Feb 13 Thu    Pisco/Nazca Lines, Peru 7 AM 7 PM
Feb 14 Fri      Cruising the Pacific Ocean
Feb 15 Sat      Cruising the Pacific Ocean
Feb 16 Sun    Coquimbo, Chile 8 AM 5 PM
Feb 17 Mon   Santiago de Chile (San Antonio), Chile 8 AM 6 PM
Feb 18 Tue     Cruising the Pacific Ocean
Feb 19 Wed   Puerto Montt, Chile 8 AM 5 PM
Feb 20 Thu   Puerto Chacabuco, Chile 11 AM 8 PM
Feb 21 Fri      Laguna San Rafael, Chile 8 AM 6 PM
Feb 22 Sat     Cruising the Chilean Fjords
Feb 23 Sun    Cruising the Chilean Fjords
Feb 24 Mon   Punta Arenas, Chile 8 AM 6 PM
Feb 25 Tue    Cruising Around Cape Horn
Feb 26 Wed   Ushuaia, Argentina 8 AM 6 PM
Feb 27 Thu    Cruising the Atlantic Ocean
Feb 28 Fri     Port Stanley, Falkland Islands 8 AM 6 PM
Feb 29 Sat     Cruising the Atlantic Ocean
Mar 1 Sun     Puerto Madryn, Argentina 7 AM 6 PM
Mar 2 Mon   Cruising the Atlantic Ocean
Mar 3 Tue     Cruising the Atlantic Ocean
Mar 4 Wed    Buenos Aires, Argentina 8 AM 9 PM
Mar 5 Thu     Montevideo, Uruguay 8 AM 7 PM
Mar 6 Fri      Punta Del Este, Uruguay 8 AM 6 PM
Mar 7 Sat     Rio Grande, Brazil 12 PM 7 PM
Mar 8 Sun    Cruising the Atlantic Ocean
Mar 9 Mon   Porto Belo, Brazil 8 AM 5 PM
Mar 10 Tue   Sao Paulo (Santos), Brazil 8 AM 7 P M
Mar 11 Wed  Parati, Brazil 8 AM 7 PM
Mar 12 Thu   Ilha Grande, Brazil 8 AM 6 PM
Mar 13 Fri     Buzios, Brazil 8 AM 6 PM
Mar 14 Sat     Rio de Janeiro, Brazil 8 AM
Mar 15 Sun    Rio de Janeiro, Brazil 6 PM
Mar 16 Mon   Cruising the Atlantic Ocean
Mar 17 Tue     Cruising the Atlantic Ocean
Mar 18 Wed   Recife, Brazil 9 AM 7 PM
Mar 19 Thu    Natal, Brazil 7 AM 4 PM
Mar 20 Fri     Fortaleza, Brazil 9 AM 6 PM
Mar 21 Sat      Cruising the Atlantic Ocean
Mar 22 Sun    Cruising the Atlantic Ocean
Mar 23 Mon   Cruising the Atlantic Ocean
Mar 24 Tue     Mindelo (São Vicente), Cape Verde 10 AM 7 PM
Mar 25 Wed   Cruising the Atlantic Ocean
Mar 26 Thu    Dakar, Senegal 8 AM 10 PM
Mar 27 Fri      Banjul, Gambia 7 AM 5 PM
Mar 28 Sat     Cruising the Atlantic Ocean
Mar 29 Sun    Cruising the Atlantic Ocean
Mar 30 Mon   Abidjan, Ivory Coast 10 AM 7 PM
Mar 31 Tue     Sekondi-Takoradi, Ghana 7 AM 5 PM
Apr 1 Wed      Lome, Togo 8 AM 6 PM
Apr 2 Thu      Cruising the Atlantic Ocean
Apr 3 Fri        Cruising the Atlantic Ocean
Apr 4 Sat        Cruising the Atlantic Ocean
Apr 5 Sun       Cruising the Atlantic Ocean
Apr 6 Mon     Walvis Bay, Namibia 8 AM 6 PM
Apr 7 Tue       Cruising the Atlantic Ocean
Apr 8 Wed     Cape Town, South Africa 1 PM
Apr 9 Thu      Cape Town, South Africa 6 PM
Apr 10 Fri      Mossel Bay, South Africa 11 AM 7 PM
Apr 11 Sat      Cruising the Indian Ocean
Apr 12 Sun    Durban, South Africa 8 AM 9 PM
Apr 13 Mon   Richards Bay, South Africa 6 AM 4 PM
Apr 14 Tue    Maputo, Mozambique 9 AM 6 PM
Apr 15 Wed   Cruising the Indian Ocean
Apr 16 Thu    Cruising the Indian Ocean
Apr 17 Fri      Cruising the Indian Ocean
Apr 18 Sat     Pointe Des Galets, Reunion Island 8 AM 7 PM
Apr 19 Sun    Port Louis, Mauritius 8 AM 6 PM
Apr 20 Mon  Cruising the Indian Ocean
Apr 21 Tue    Cruising the Indian Ocean
Apr 22 Wed  Cruising the Indian Ocean
Apr 23 Thu   Cruising the Indian Ocean
Apr 24 Fri     Male, Maldives 8 AM 6 PM
Apr 25 Sat    Cruising the Laccadive Sea
Apr 26 Sun   Cochin (Kochi), India 6 AM 4 PM
Apr 27 Mon  Colombo, Sri Lanka 11 AM 8 PM
Apr 28 Tue   Cruising the Bay of Bengal
Apr 29 Wed  Cruising the Bay of Bengal
Apr 30 Thu   Cruising the Andaman Sea
May 1 Fri      Rangoon, Myanmar 8 AM
May 2 Sat     Rangoon, Myanmar
May 3 Sun    Rangoon, Myanmar 5 PM
May 4 Mon   Cruising the Andaman Sea
May 5 Tue    Phuket, Thailand 8 AM 6 PM
May 6 Wed   Penang, Malaysia 8 AM 5 PM
May 7 Thu    Kuala Lumpur (Port Klang), Malaysia 7 AM 6 PM
May 8 Fri      Singapore, Singapore 1 PM
May 9 Sat      Singapore, Singapore 6 PM
May 10 Sun   Cruising the Gulf of Thailand
May 11 Mon   Ko Samui, Thailand 8 AM 4 PM
May 12 Tue    Bangkok, Thailand 9 AM
May 13 Wed   Bangkok, Thailand 3 PM
May 14 Thu    Sihanoukville, Cambodia 10 AM 10 PM
May 15 Fri      Cruising the South China Sea
May 16 Sat     Saigon (Ho Chi Minh City), Vietnam 8 AM
May 17 Sun    Saigon (Ho Chi Minh City), Vietnam 4 PM
May 18 Mon  Cruising the South China Sea
May 19 Tue    Hue/Da Nang (Chan May), Vietnam 7 AM 5 PM
May 20 Wed  Hanoi (Ha Long Bay), Vietnam 11 AM
May 21 Thu    Hanoi (Ha Long Bay), Vietnam 6 PM
May 22 Fri     Cruising the South China Sea
May 23 Sat    Hong Kong, China 8 AM
May 24 Sun   Hong Kong, China 5 PM
May 25 Mon   Xiamen, China 1 PM
May 26 Tue    Xiamen, China 6 PM
May 27 Wed   Cruising the East China Sea
May 28 Thu    Shanghai, China 10 AM
May 29 Fri     Shanghai, China 3 PM
May 30 Sat    Cruising the Yellow Sea
May 31 Sun    Beijing (Tianjin), China 12 PM
Jun 1 Mon     Beijing (Tianjin), China 7 PM
Jun 2 Tue      Cruising the Yellow Sea
Jun 3 Wed    Jeju, South Korea 10 AM 7 PM
Jun 4 Thu    Busan, South Korea 8 AM 6 PM
Jun 5 Fri      Nagasaki, Japan 7 AM 5 PM
Jun 6 Sat     Kagoshima, Japan 7 AM 3 PM
Jun 7 Sun    Hiroshima, Japan 10 AM 7 PM
Jun 8 Mon   Kyoto (Kobe), Japan 9 AM
Jun 9 Tue     Kyoto (Kobe), Japan 3 PM
Jun 10 Wed  Shimizu, Japan 12 PM 8 PM
Jun 11 Thu    Tokyo, Japan 8 AM
Jun 12 Fri     Tokyo, Japan 5 PM
Jun 13 Sat     Oarai, Japan 9 AM 6 PM
Jun 14 Sun    Cruising the Pacific Ocean
Jun 15 Mon   Aomori, Japan 8 AM 11 PM
Jun 16 Tue    Hakodate, Japan 7 AM 4 PM
Jun 17 Wed   Cruising the Pacific Ocean
Jun 18 Thu    Cruising the Pacific Ocean
Jun 19 Fri      Petropavlovsk-Kamchatsky, Russia 8 AM 10 PM
Jun 20 Sat     Int'l Date Line East
Jun 20 Sat     Cruising the Aleutian Basin
Jun 21 Sun     Cruising the Aleutian Basin
Jun 22 Mon    Dutch Harbor (Aleutian Islands), Alaska 7 AM 6 PM
Jun 23 Tue     Cruising the Pacific Ocean
Jun 24 Wed   Kodiak, Alaska 8 AM 6 PM
Jun 25 Thu    Seward, Alaska 7 AM 5 PM
Jun 26 Fri     Cruising Hubbard Glacier
Jun 27 Sat     Juneau, Alaska 9 AM 6 PM
Jun 28 Sun    Sitka, Alaska 9 AM 6 PM
Jun 29 Mon   Ketchikan, Alaska 9 AM 6 PM
Jun 30 Tue    Cruising the Inside Passage
Jul 1 Wed       Victoria, British Columbia, Canada 9 AM 6 PM
Jul 2 Thu       Astoria, Oregon, United States 9 AM 6 PM
Jul 3 Fri         Cruising the Pacific Ocean
Jul 4 Sat        San Francisco, California, United States 8 AM
Jul 5 Sun       San Francisco, California, United States Disembark 8 AM